Types of Vinyl Fence Posts
Vinyl Fence is one of the most popular alternatives for adding security to any perimeter, increasing property value, and, most commonly - adding a beautiful, finished touch to any property. Vinyl is a long-lasting, low-maintenance option with many options for customizing the style and color that best corresponds to your desired outdoor aesthetic. These fences are essentially glorified plastic, but when getting into the technical information, what sets viny fencing apart is that it is made using Polyvinyl Chloride (PVC), which significantly improves strength and UV resistance. Compared to wood or metal fences, this quality material reduces the required maintenance and hazards from toxic weathering chemicals, splinters, and nails. It also increases its durability, giving your fence longevity and flexibility.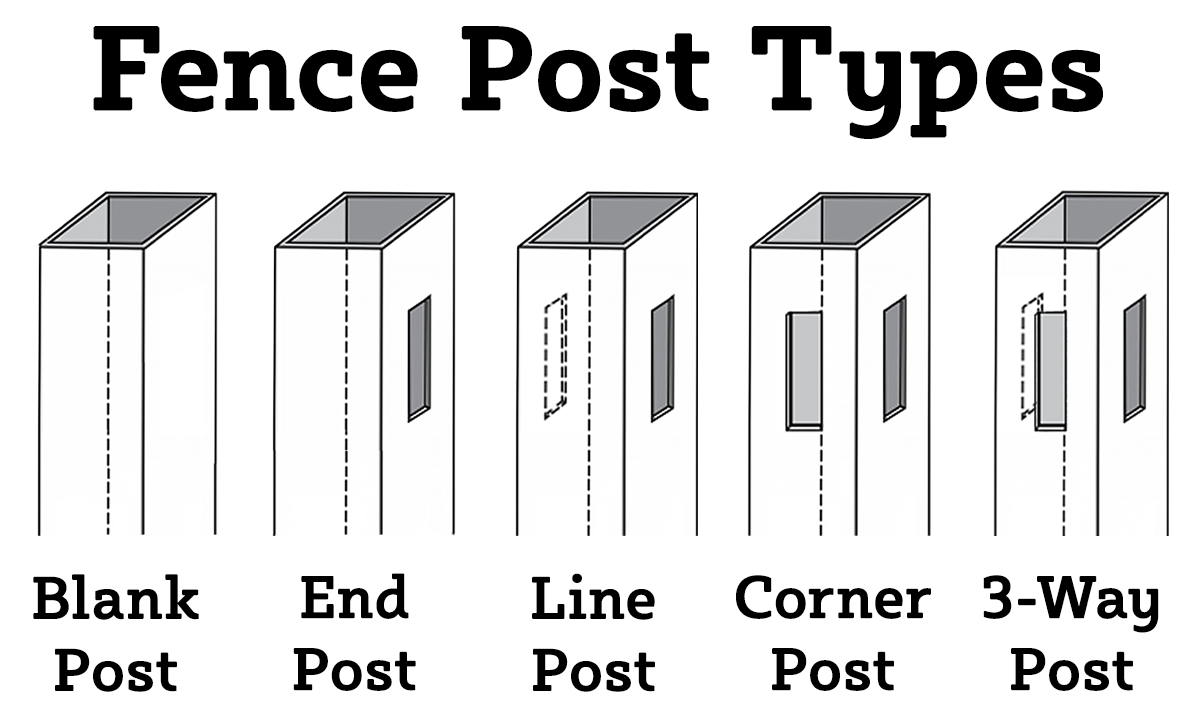 Vinyl Fence and Railing Posts
Posts are essential for every vinyl fence and railing type. Posts can be defined as thick, vertical structures that provide the fence's construction resilience and hold the pickets and rails in place. They are the most extended portion of your fence because they need to be installed with about 1/3 of the post buried and secured with gravel and concrete. Many types of vinyl posts are needed for a typical vinyl fence installation. Depending on the fence style, installation environment, application usage, and other aspects, deciding which one you need is based on how you will need it to function.
Types of Vinyl Fence and Railing Posts:
End Posts: Made to be installed at the end of a fence line after the last panel.
Corner Posts: Made to be installed between two fence panels that come together and form a corner (forming a conjunction of two panels at a 90° angle).
Line Posts: Made to be installed between two panels that form a straight line (forming a 180° straight fence line).
Blank Posts: Made for use with applications that require in-the-field custom routing and cutting, as well as for use with uneven terrain.
Gate Posts: Made for attaching vinyl fence gates to the other fence sections. They are usually thicker and more durable to hold up the weight of the gate that it is supporting.
3-Way Posts: Made for installation between three different fencing sections, conjoining all sections together and allowing a 90° angle to be formed while also continuing the fence line.
All types of vinyl posts listed above are constructed using only the highest quality, water-resistant vinyl and require little to no maintenance. They are made for withstanding extreme weather conditions, humidity, moisture, and harmful UV exposure, ensuring long-lasting color. It will never fade, warp, or rot like alternative fencing materials and offers incredible strength and durability.
Post Accessories:
You can easily add class and style to your fence by adding high-quality vinyl post caps and post skirts. With our collection of vinyl post caps and vinyl post skirts, you can make your fence stand out, and because we have so many different styles, we are sure you'll find one that suits your property! We're proud to offer our vinyl accessories at an affordable price and won't break the bank while still being the highest quality available on the market today.
Post Caps
Vinyl Post Caps are a stylish, economical choice for topping every vinyl fence post. Many options exist for a wide range of fence colors and styles with internal and external fitting vinyl post caps. Post caps act as a barrier on top of the post and protect the interior portion of a post, keeping water and other debris from penetrating the post and preventing build-up and potential damage. Our massive collection of vinyl post caps is incredibly easy to install and, once in place, bolsters a fence's look and performance.
Post Skirts
Post Skirts add an attractive decorative touch to a vinyl fence post. We offer Post Skirts in both one- and two-piece models for easy installation with many applications. Additionally, we offer multiple color options so you can find the perfect Post Skirt to fit your project. Slide them into place at the foot of a vinyl fence post, and the curb appeal of any fencing project receives a significant boost.